Cabins for pressure sanding/shot-peening series "VP"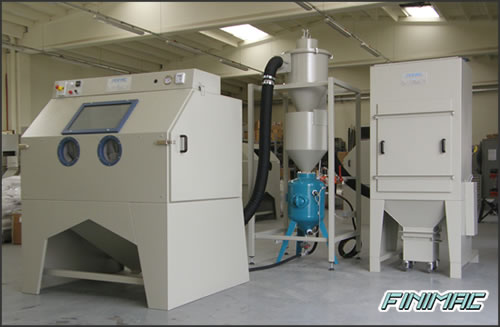 The series "VP" is referred to machines throwing the abrasive through a system named "by pressure".
This series includes two standard models featured by the enlarged dimensions of the working area. All models arrange a centrifugal dust separator for recovery and restore of the abrasive. The separator provides a double adjustment allowing to work with abrasives having size and specific weight very different as to get an excellent degree of dust exhaustion. All parts of the machines are painted by epoxy powders -furnace baked- as to get them really wear-proof. Abrasion-proof special rubber sheets are lining the inside walls of the cabin and of the dust separator.
Thanks to the technical features and of construction of these machines, it can be obtained a product of:
• high quality
• long life
• large versatility
They are allowed to work with every kind of abrasive and of different size, such as:
• glass beads
• corundums and sands
• plastic granules
• vegetable granules
• metallic grits
The "pressure" operating machines carry-out the abrasive throw through a special gun that, by means of an abrasion-proof pipe, is connected to the abrasive collecting tank. Once put in pressure, the tank conveys the abrasive, through the piping, to the gun from which is outcoming a throw characterized by a large power and a high working capacity (about 4-5 times higher than a vacuum-operator machine). The gun can be easily moved, in order to position the throw towards the piece to be treated.
By consequence the treatment will be fast and effective and it depends on the following elements:
• the pressure of the compressed air
• the type of abrasive
• the diameter of the nozzle and its shape
• the time of treatment for unit of surface.
The surface treatment that can be carried-out are:
• removing of polluted matters
• fettling
• hardening shot-peening
• grazing for aesthetical purpose
• deoxidation
• paint removing
• preparation of surfaces for anchoring of metals, paints, rubbers, ecc.
The machines of this series are mainly composed of:
• treatment cabin
• double adjustment dust-separator for the contiunuous restore of the abrasive in order to remove the working residuals
• tank of the abrasive suitable for working under pression
• dust exhaust filter, with large surface cartridges, complete of self-cleaning automatic cycle through compressed air throws.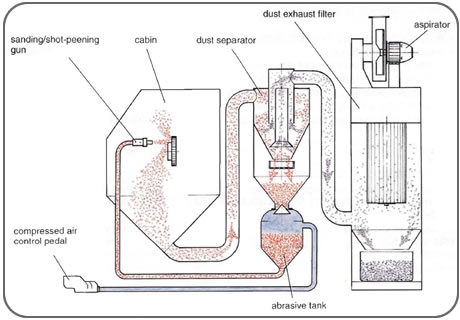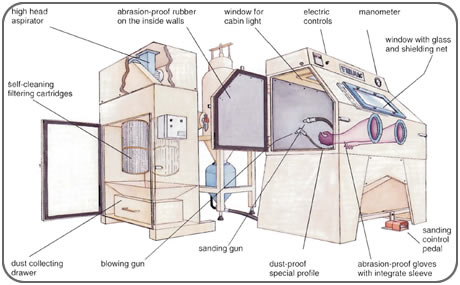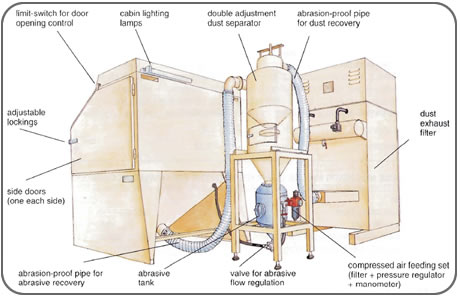 TECHNICAL FEATURES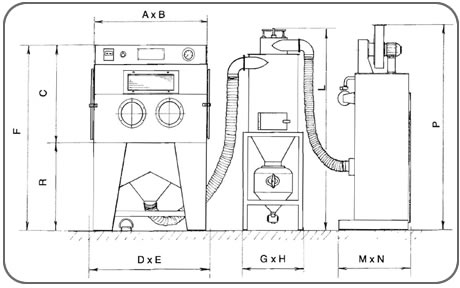 Model


VP2

VP3

Sizes of the working area
AxBxC mm

1100x850x750

1500x1200x900

Height of the working surface R
mm

850

850

| | | |
| --- | --- | --- |
| Overall dimensions: | cabin DxExF | mm |
| | dust separator GxHxL | mm |
| | filter MxNxP | mm |

1180x1000x1760

600x600x2200

1200x800x2350

1580x1350x1910

600x600x2200

1200x800x2350

| | | |
| --- | --- | --- |
| Weights: | cabin | kg |
| | dust separator | kg |
| | filter | kg |

Filtering surface
mq

15

15

Compressed air consumption
lt/1'

1500-1450

1500-1450

Aspirator power
HP

4

4

Electric energy absorption
Kw

3,0

3,0
On request, these machines can be supplied with the following accessories:
- manual rotary table
- carriage with manual rotary table
- inside and outside roller-way
- automatic rotary table with swinging gun holding arm
- rotary drum for automat ic treatment of findings
Exemples of pressure machines
Sanding/shot-peening cabinet supplied with carriage and
rotary table
Special shot-blasting machines, pressure system